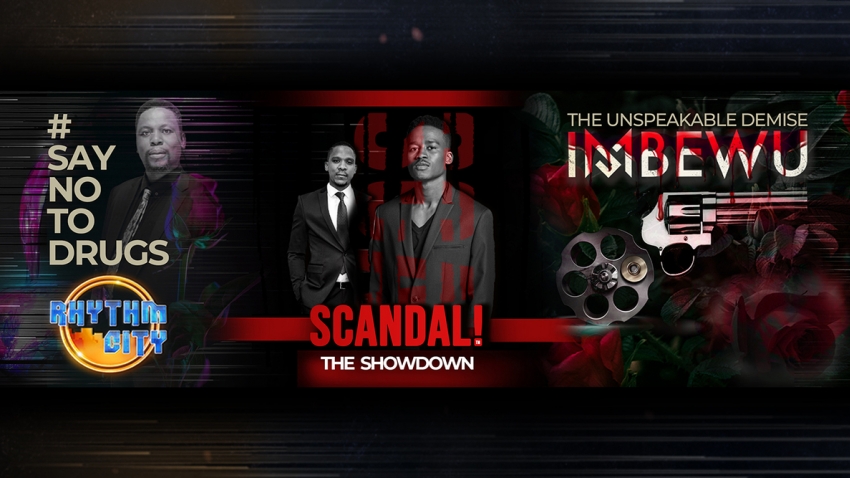 Scoop
All your favorite local shows.
Here's a glimpse on what to expect on your favourite local shows. 
Rhythm City 
Weekdays 7:00 PM 
Zinhle falls deeper into depression and encounters a drug called "Slaza." Little did she know that her father, Khulekani, is the main supplier of this drug in the townships. She finds herself, chilling more and more in DK and becoming closer with Kea to the point where she catches feelings for her. Her life becomes so distraught that her parents try to get her out of the mental state she is in.
#SayNotoDrugs

Scandal!
Weekdays 7:30 PM

As the net becomes tighter around Mthunzi, Romeo uses all the tricks in the book to bring him down. Mthunzi learns about Thembeka's betrayal and sets his own revenge mission into play. Meanwhile, Xolile colludes with Quinton and entrusts him with a very important mission.

Imbewu
Weekdays 9:30 PM
The Unspeakable Demise
Zimele owes the Maphumulo gang, and they finally come to collect. They request that guns are transported across the border using Maluju oil trucks because Maluju is a trusted brand, and the trucks will not raise suspicion. Zimele, knowing very well how dangerous this gang is, agrees. However, Pranav puts his foot down and refuses to have the organization involved in illegal activities. The Maphumulo gang reacts to this and forces Zimele and Pranav to play Russian Roulette with each other. One must fall.

Catch all your favourite local shows, weekdays from 7:00 PM to 9:30 PM on e.tv.